BIO and ARTIST STATEMENT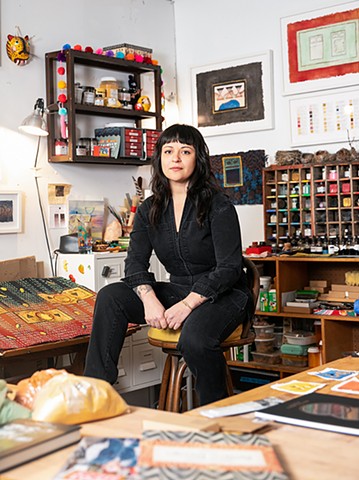 I am an artist, educator, and researcher, with a primary focus on the histories, artistic legacies, and technical properties of historic colorants, such as pigments, inks, and dyes.
I hold an MFA from SUNY Purchase and an Ed.M from the Harvard Graduate School of Education, and have exhibited at galleries such as Lyles & King, The Wassaic Project, and Dread Lounge. I have participated in residencies at The Wassaic Project, Cooper Union, Mass MoCA, Banff Centre for Arts and Creativity (BC, Canada), SIM Residency (Reykjavik, Iceland), and Pocoapoco (Oaxaca, Mexico). I have worked as an educator at New Museum, Pioneer Works, Swiss Institute, Abrons Art Center, Dia:Beacon, Harvard Art Museums, and the 92nd Street Y. In addition to working for arts institutions, I maintain an ongoing, independent teaching practice centering my historic colorant research, offering workshops for universities, foundations, arts education programs, companies, and other interested parties.
I create 2D and 3D drawings, paintings, and collages, with imagery aiming to tell stories of life cycles of all kinds, both real and imagined. I work mainly with natural materials, including pigments, inks, dyes, papers, textiles, among other foraged and found objects. In recent work I have been collaging with papers made by myself as well as by other international artisans who incorporate natural ingredients into the pulp. These include cotton, sheep wool, agave fiber, chilis, amate, and rice. Through this process I have been creating 3D compositions arranged on paper-covered panels with naturally dyed string, as well as inks, paints, and wrapped wooden armatures. The images are primarily based on creation stories and myths, landscape iconography, and human anatomy. Hands (suggesting perhaps a god-like figure) are, at times, extended into the frame, seeming to generate or alter the overall image. Circular and oval shapes suggest a landscape of our reproductive organs, offering maps of the life-giving interior self.